July/27/11 18:08 Filed in:
Braves
First of all, solid video proof at the end of the post.

A few things to consider.

See the top picture? This isn't very clear, but there is a fold in Lugo's uniform under the glove. This is when he would have been tagged. If there was contact, that fold wouldn't be there. The catcher's mitt would be pulling up the uniform.

McKenry applied the wrong tag. He went for a swipe tag and missed.

Look at the video. Look where Meals is. He is is a perfect position and look where Lugo's left left is. Lego's left leg is the perfect backdrop to the tag and give a nice white background for Meals.

Finally, look at the video in this post. Sportscenter runs the video in slow motion back and forth and Lugo is safe.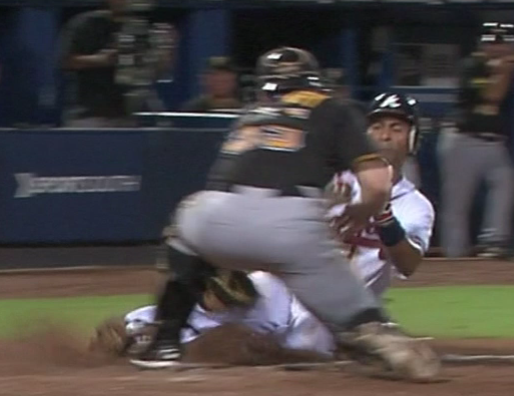 Video courtesy of ESPN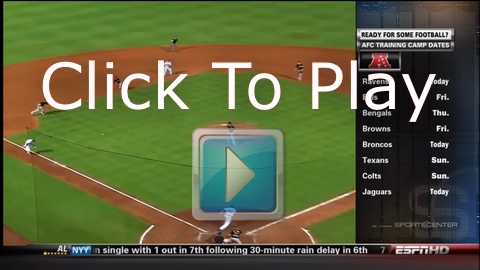 July/27/11 14:05 Filed in:
Braves
On first glance, it looks as if Lugo is out by a mile. On a close inspection, it swipe tag may have missed and Jerry Meals stated he saw daylight between the glove and the player. Meals wasn't out of position and he was in the perfect spot to make the call. I'm not 100% sure either way, but Meals was where he was supposed to be to make the call. As for the Pirates filing a formal complaint, what a bunch of babies. An ump making the wrong call screwed the Braves out of a game last year in the NLDS and you didn't see them crying to the Commish.

McKenry has no one to blame but himself. He threw down the swipe tag and Meals says his missed. McKenry should have put the glove down and kept it there for Lugo to tag himself.

Make sure to watch the whole video and look at what happens when a pitcher averages an at bat a year.

Video courtesy of MLB.TV


July/27/11 14:01 Filed in:
Braves
These idiots grabbed a ball in play as Hinske was rounding third and cost the Braves a run. Don't forget that McCann was injured in the tenth so if the Braves had won in regulation, we would still have Big Mac in the lineup.

Video courtesy of MLB.TV